Register Before July 20!
Learn from culinary historian Lavada Nahon about the day-to-day life of the farmers and their workers of the Lower Hudson Valley, many of whom were enslaved, with special attention to what they were eating and drinking, who was preparing it, and more.
Lavada Nahon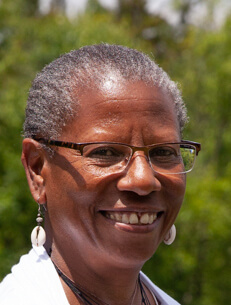 Lavada Nahon is a culinary historian focused on the 17th-19th century Mid-Atlantic region and an independent scholar dedicated to giving presence to the Africans and people of African descent both enslaved and free in New Netherland and New York.
Lavada Nahon
is the interpreter of African American history for the New York State Office of Parks, Recreation, and Historic Preservation – Bureau of Historic Sites. She has developed numerous educational programs over a long career including historic dinners, events, and programs for organizations like the New York Historical Society, the Albany Institute of Art and History, the Dyckman Farmhouse Museum, Van Cortland Manor, and Philipsburg Upper Mills.
A special take-out meal chosen by Nahon to accompany the presentation is based on recipes from historic cookbooks. The meal will be prepared by Hudson Market on Main at 5 N. Broadway for pick-up between 1p and 4p. The special historic menu:
Spinach Tart

Potato Salad with farm fixings

Pickled vegetables

Pound Cake and Ginger Cookies
We encourage you to invite friends or family members to join your table for this unique historic combo Invite them to a little house party! (If you'll be out of town, we'll arrange for your dinner to be delivered to someone local.)
Ready for even more food? Embellish your Hudson Mart supper with other accompaniments from the same era. Go farm to table with local garden vegetables and fruits. Add smoked fish and shellfish. There are lots of ways to dress up the pound cake with berries and whipped cream. Popular drinks to accompany dinner include hard cider, heirloom craft beers, Madeira Rosewater Wine, Claret (Burgundy).
We did our best to make this event affordable – and offer for those who can, a way to generously support Local History, so please consider the Local History Patron or Local History Benefactor option.
Levels of Support
Zoom link only………………………$25
Local History Supporter………..Dinner for 2 (+zoom link) $55
Local History Lover…………………Dinner for 4 (+zoom link) $100
Local History Patron……………….Dinner for 4 (+zoom link) $175
Local History Benefactor……….Dinner for 4 (+zoom link) $250
How to Order
You may order any of the five choices online HERE at BrownPaperTickets. Alternatively you may download the form HERE and mail to us with a check. Meals are available for two or four people (or any other multiple of 2.) All meal selections come with a Zoom link. For those unable to pick up a meal, we will donate your meal to those in need in Nyack. Orders must be placed by July 20th. Pickup meals at Hudson Market on Main at 5 N. Broadway on July 25th between 1p and 4p.
Nyack Library Hosting the Zoom Meeting
The Nyack Library has graciously agreed to help sponsor this event by hosting the Zoom meeting.